Bequeathing your life lessons | Inquirer | 04/02/2007
Bequeathing your life lessons
Interest in leaving an ethical will is increasing.
By Dianna Marder
Inquirer Staff Writer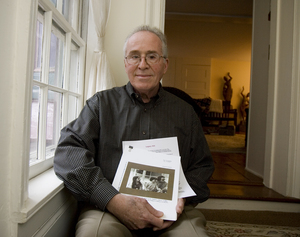 When
he dies, Abraham Leibson of Lambertville, N.J., wants to leave his
heirs a love of learning, the flexibility to change, and the courage to
face their fears.And while such abstract concepts cannot be
bequeathed as tangibly as a pocket watch or a stock portfolio, ideals
and values are part of one's legacy, nonetheless – and they can be
passed from one generation to another.
So Leibson, who is 69 and
in good health, is writing an ethical will. "I want to show my children
what guided my way of life," he says.
Shorter than a memoir, less
extensive than a family history, an ethical will is a
not-legally-binding statement that summarizes how you'd like to be
remembered.
With Americans turning 60 at the rate of about 8,000 a day, interest in ethical wills is exploding.
In
fact, baby boomers queried on inheritance last year by Allianz Life
Insurance said they'd be 10 times more grateful to receive life lessons
from their parents than to get material goods.
"As people age,
they want to know they mattered," says Barry K. Baines, a Minneapolis
physician who began touting ethical wills after seeing their
effectiveness with hospice patients.
Baines envisions a low- or
no-cost approach to writing ethical wills, in part because there is no
prescribed way to do it. But the no-rules factor is also what makes it
a daunting task for some.
So Baines offers a $5 workbook, a $15 text, as well as tips on his site, www.ethicalwill. com. And he travels the country training trainers, who generally charge about $250 for a full-day group workshop.
Ethical
wills are rooted in Judeo-Christian tradition, he says, as a final
blessing by a father to his sons, or a leader to his followers. More
recently, they have turned up as last letters from dying grandparents.
Paul
Silberberg, president of the Philadelphia investment boutique CMS, has
such a letter from his grandmother. The original is framed in his home,
and he has carried a copy with him every day for 20 years.
"No
one can fully understand the joy and happiness I feel when you call,
when you visit, and most of all, when you join together in family
celebration," it reads. " . . . May you be forever warmed by my eternal
love."
"Ten years ago, my wife and I wrote our own ethical will –
in the form of a letter to our children – because I saw how important
my grandmother's letter was to me," Silberberg says. "So we typed it up
and signed it and gave it to our lawyer to keep with our papers, so
that if and when . . . our children will get it."
Increasingly,
ethical wills are attracting the attention of financial planners and
investment strategists who want to offer free workshops on writing them
as a do-it-yourself opportunity for clients.
"Good, bad or
otherwise, we're all going to leave a legacy of some kind," says
Kenneth Wheeler, an Episcopal Academy grad who practices tax law in
central Florida.
Once his clients have outlined the disposition
of their money and property, Wheeler urges them to consider the moral
heritage they'll leave. He steers them toward the do-it-yourself
approach so no cost is incurred.
"I started soul-searching about
10 years ago," Wheeler says. "And began to face the fact that legacy is
more than money and property.
"Our greatest fear is not that we're going to die, but that we'll be forgotten."
An
ethical will also creates a space where you can explain the thinking
that went into your regular will, says North Jersey estate lawyer Gary
Garland, who trained with Baines.
A paragraph or two on why you
left more money to one child than to another, for example, is
inappropriate in a legal will, Garland says. "It muddies the legal
waters."
"Besides, a regular will is read in public, and only
beneficiaries get copies. Maybe you have something you'd like to say to
someone who is not your beneficiary. And there's a benefit to it being
a family heirloom instead of a legal document."
Today's ethical wills might be two paragraphs or two pages, recorded on audio or video, distributed immediately or posthumously.
Leibson
is writing three originals: one each for his son, his daughter and
himself. He's working with local counselors David Cooling, a retired
Episcopal priest, and Ann Quinn, a retired corporate consultant.
Cooling
and Quinn, who studied with Baines, are based in Lambertville. In their
full-day workshops, which cost about $250 per person, they use prompts
such as "I learned about love from . . . " or "I wish I'd known . . . "
to get the process rolling.
"My experience is that people love the idea," Quinn says, "but as with any do-it-yourself project, people get stuck."
Leibson
says working in a small group created the comfort and inspiration he
needed. The process, he says, can be cathartic but daunting.
"It does make some people think they're going to die when they finish it," Leibson says.
Leibson
is also working on a separate, more detailed family history. So far, he
has distributed about a dozen loose-leaf-style pages with photos and
handwritten text to his son and daughter.
Still, he knows his ethical will has to be succinct and personal.
"I don't want to mimic other people's platitudes," Leibson says. "And if I write too much, my children will just glaze over it."
---
Resources on Ethical Wills
Books
Barry K. Baines, "Ethical Wills: Putting Your Values on Paper" (Perseus Books, revised 2006); www.ethicalwill.com.
Rabbi
Jack Riemer, "So That Your Values Live On: Ethical Wills and How to
Prepare Them" (Jewish Lights Publishing, revised 2006).
Classes
Writer
Anne Wolfe will start a class on ethical wills April 18 at Bucks County
Community College's Newtown campus. For details, visit www.annewolfe.com.
Ann Quinn and David Cooling lead workshops upon request. Call 609-397-2122, e-mail ann@businessofbeing.com, or visit www.businessofbeing.com.
---
Contact staff writer Dianna Marder at 215-854-4211 or dmarder@phillynews.com. Read her recent work at http://go.philly.com/diannamarder/.